Mission Statement
EightCAP, Inc. improves our community by collaborating with private, government, and community organizations to deliver programs that alleviate the causes of poverty and its effects allowing individuals to become self-sufficient.
Early Childhood Programs
Learn more about our early childhood programs. Find brochures, forms, and applications. Get questions answered and find some opportunities to get involved in the community!
Community Services/Emergency Assistance
Serving Gratiot, Isabella, Montcalm, and Ionia Counties
Are you struggling to make ends meet? Are you a senior who is struggling to feed your family and pay your bills? Are your utilities in shutoff status? Have you found an apartment that you can afford the monthly rent but are struggling to come up with the security deposit?
Click here for more information.
Housing & Homeless Services
Serving Gratiot, Isabella, Montcalm, and Ionia Counties
Are you experiencing homelessness? Are you struggling to find affordable housing? Do you have an eviction notice or are you behind on your rent?
Click here for more information.
CASA: Court Appointed Special Advocate for Children
Provides trained volunteers to be a voice for abused and neglected children.
Weatherization
A federally funded, low-income residential energy conservation program that can reduce energy costs.
Foster Grandparents/Senior Companions Program
A program for engaging persons 55 and older in volunteer service to meet community needs.
Greenville Optimist Camp
A summer camp which serves adults and children who have received or are receiving Special Education services.
Get Involved
Do you have time and talent to offer to your community? Learn about ways you can help on our Get Involved page.
Hours
EightCAP Inc. is open
Monday through Friday
8:00am to 4:30pm
Strategic Plan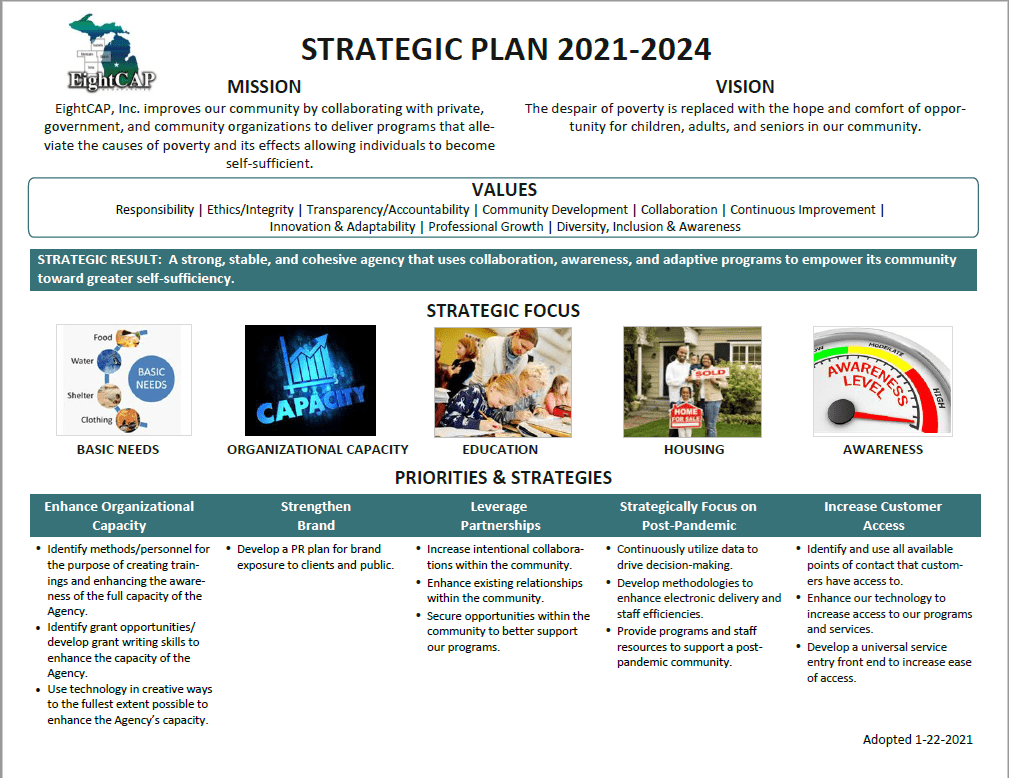 Community Assessment
Volunteer Child Advocates Needed
Are you looking for a way to make a life changing and positive difference in the new year? The Montcalm Court Appointed Special Advocates (CASA) Program is seeking volunteers to serve as advocates for abused and neglected children in court. CASA volunteers will receive specialized training and direction from program staff. Apply now and be ready for the next training beginning soon. Make a lifelong difference for an abused child and improve your local community. To find the application please visit: www.montcalmcasa.org. Call 989-831-3561 or email: montcalmcasa@8cap.org
Public Notices
November 17, 2023
Audit Committee meeting and Governing Board Meeting
November 2, 2023
Human Resources Committee Meeting November 8th, 2023 @ 11:00am | Bylaws and Appeals Committee Meeting @ 11:30am
February 2, 2023
Governing Board 2023 Meeting Schedule [Notice]
Sep 17, 2018
EightCAP Receives Orleans Facility Water Retest Results from MDEQ Press Release,
Resample Summary
Aug 6, 2018
PFAS Compounds Detected at EightCAP's Orleans Facility.
Press Release,
Notification Letter,
EightCAP Ionia Outreach Letter,
EightCAP Ionia Outreach Summary.
office hours
M-F:8am – 4:30pm
address
5827 Orleans Road
Orleans, MI 48865
phone
5827 Orleans Road
Orleans MI 48865